Kanbann brings Trello to your Apple Watch. You can get it from the Apple App Store here.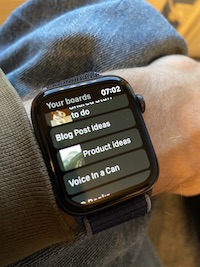 Use it whether or not you have your phone nearby (it can work independently of your phone over Wifi or cellular).
Using the app on your watch you can:
Create cards and archive cards
Move cards within and between lists
Append to a card's description
Comment on a card
Create checklists on a card
Create new items on a checklist
Uncheck and check items on a checklist.
Create Trello cards using Siri on your watch: "Hey Siri, Create a note Testing 321 in Kanbann".
In order to use this you'll need to do two things: Firstly enable Siri support for Kanbann on your phone, by saying "Hey Siri, Create a note Testing 321 in Kanbann" and tapping "Yes" (this is a one-time thing).
Secondly on your watch you need to designate the default list for new cards by going to Settings (pull down on the home page) and tap the option to select the default board and list.